The catalog contains the probability density functions (PDFs) of 479,056 events located with
NonLinLoc
. Each event's PDF is expressed by a mixture of optimal number of Gaussians. Events are stored on multiple of lines, each representing an individual mixture component (i.e mixing weight and elements of the multivariate Gaussian covariance matrix).
Download the KaKiOS-16 Catalog
kakios_16_20160504.zip
(48 MB)
The catalog spans the time range [1981/01/01, 2011/06/30], latitudes [30.0, 37.5] and longitudes [-122, -113]. Magnitudes are not re-estimated and are taken from the
SCEC
. All events in KaKiOS have been located with at least 4 P picks within a 100 km radius. Due to this minimum locatability requirement some events have not been located. Also, since SCEC updates catalogs retrospectively there are new events found in neither KaKiOS nor
HYS-2012
.
To facilitate comparisons between different catalogs we provide additional lists of these events seperately. We remind the user that these events are located by SCEC with their routine method and velocity model. The lists are created based on the SCEC catalog downloaded on 2016/04/27 including both regional and local events.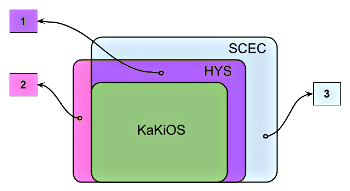 [1] Poorly locatable events present in HYS but not in KaKiOS
poorLocEvents_HYS_2012.txt
(1.5 MB)
[2] Invalid events in HYS (replicated IDs, quary blasts...)
invalidEvents_HYS_2012.txt
(24 KB)
[3] Newly detected events in SCEC (as of 2016/04/27)
newEvents_SCEC_2012.txt
(1 MB)